Lowest Product Price Guarantee. Quantity Limitations Apply.
Adel 26 (Oss-Regen)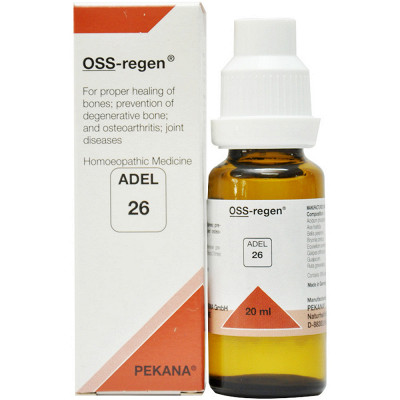 Adel 26 (Oss-Regen) 20 ml
Brand: Adel


ID: 2480
MRP.
295
281
(Inclusive of all taxes)
---
Delivery
Generally delivered in 3 - 7 days
Description
Adel 26 OSS-regen drops is popularly used to treat common types of bone diseases through a proprietary blend of several homeopathic herbs (available in drops). It has key Ingredients like acidum phosphoricum, asafoetida etc that act on healing of bones, preventing degenerative bone and the joint diseases. It is also indicated for degeneration of joint cartilage and the underlying bone (osteoarthritis), inflammation of bone accompanied by enlargement, tenderness and dull aching pain (ostitis), bones becoming brittle and fragile from loss of tissue (osteopororsis), disturbed formation of bone and inflammation of the membrane enveloping a bone (periostitis).