Lowest Product Price Guarantee. Quantity Limitations Apply.
Adel 7 (Apo-Tuss)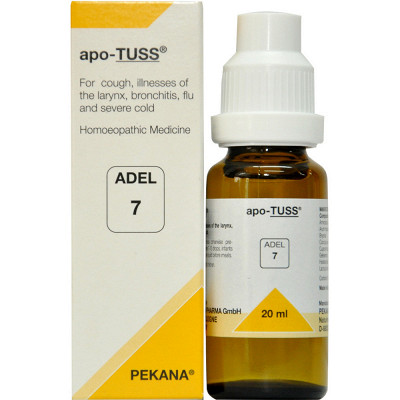 Adel 7 (Apo-Tuss) 20 ml
Brand: Adel


ID: 2305
MRP.
295
281
(Inclusive of all taxes)
---
Delivery
Generally delivered in 3 - 7 days
Description
Adel 7 are a proprietary blend of several homeopathic herbs like armoracia rusticana, arum maculatum etc., selected for their ability to address symptoms of cold and cough such as illness of larynx, inflammation of the mucous membrane in the bronchial tubes (bronchitis), severe cold and flu. It also acts as natural antimicrobial for treating cough, inflammation of the larynx (laryngitis), bronchial infections and difficulty in speaking (hoarseness). It helps to eliminate bronchial mucus, fever, cough and stabbing pain in chest. It helps to resolve asthma and whooping cough.