Lowest Product Price Guarantee. Quantity Limitations Apply.
Adel 3 (Apo-Hepat)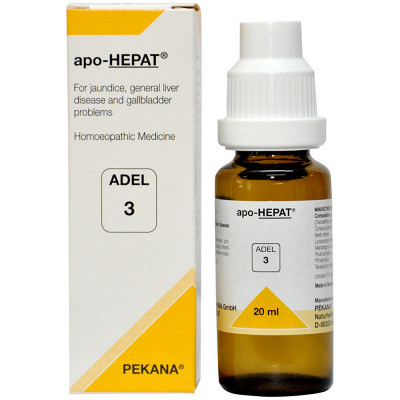 Adel 3 (Apo-Hepat) 20 ml
Brand: Adel


ID: 2302
MRP.
295
281
(Inclusive of all taxes)
---
Delivery
Generally delivered in 3 - 7 days
Description
Adel 3 apo-HEPAT drops is homeopathic medicine to treat symptoms of liver disease and gall bladder diseases through a proprietary blend of several homeopathic herbs (available in drops). It has key Ingredients like chioanthus virginica, cynara scolymus etc that act on general liver diseases, gall bladder problems and jaundice. It is also indicated to detoxify and treat liver, pancreas and gall bladder. It aids in excretion of liver toxins and eliminate liver portal blockages. This medicine increases the secretions of liver and gall bladder, stimulates circulation and improves lymphatic system.