Lowest Product Price Guarantee. Quantity Limitations Apply.
Adel 48 (Itires)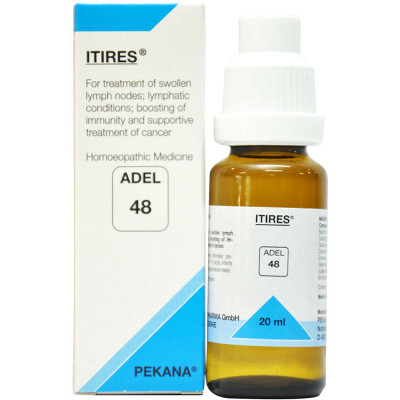 Adel 48 (Itires) 20 ml
Brand: Adel


ID: 2293
MRP.
295
281
(Inclusive of all taxes)
---
Delivery
Generally delivered in 3 - 7 days
Description
Adel 48 Itires drops to treat swelling of lymph nodes are a proprietary blend of several homeopathic herbs like barium carbonicum, calcium jodatum etc., selected for their ability to address the swollen lymph nodes, boosting the immunity, lymphatic disorders and supportive cancer treatment. It also treats inflammation of walls of lymphatic vessels (lymphangitis), inflammation of lymph nodes (lymphadenitis), contagious and infectious viral disease causing swelling of the salivary glands in the face (mumps) and tumors. The drops helps to detoxify and stimulate complete lymphatic system to boost the immunity and to speed up the toxins excretion during chronic and acute illness.