Lowest Product Price Guarantee. Quantity Limitations Apply.
Adel 33 (Apo-Oedem)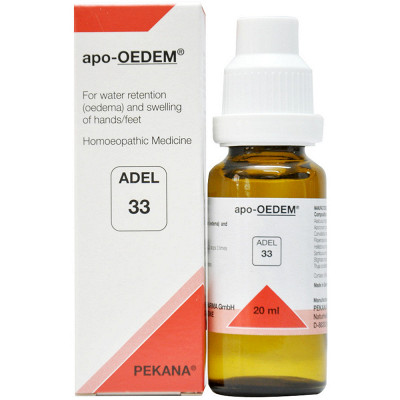 Adel 33 (Apo-Oedem) 20 ml
Brand: Adel


ID: 2292
MRP.
295
281
(Inclusive of all taxes)
---
Delivery
Generally delivered in 3 - 7 days
Description
Adel 33 apo-OEDEM drops through a proprietary blend of several homeopathic herbs (available in drops) treats oedema signs and symptoms. It has key ingredients like aesculus hippocastanum, apocynum cannabinum etc that act on oedema (condition characterized by an excess of watery fluid collecting in the cavities or tissues) of different forms that include hepatic, cardiac, kidney and lymphatic. It is also indicated for subcutaneous cell tissues that cause bloating and swollen ankle. It also treats venous stasis (formation of blood clots in blood).